Charlotte Arnhold
Fabio Cirillo
Stefan Mildenberger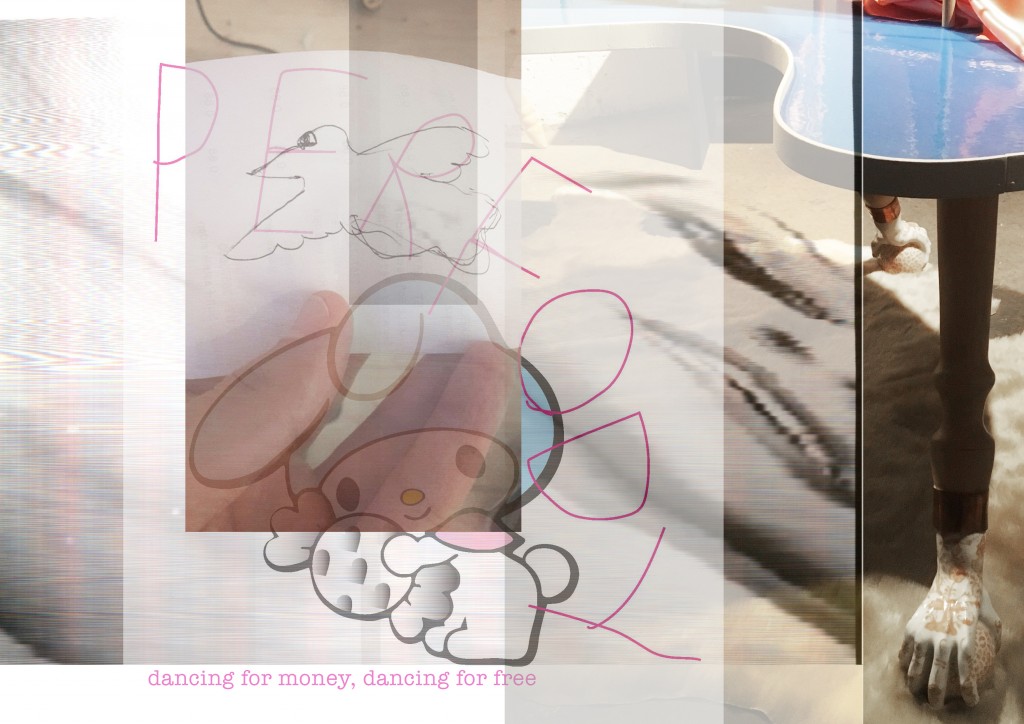 Eröffnung mit Performance:
Freitag, 3. November ab 19 Uhr
Ausstellung vom 04. – 08.11.2017

Samstag und Sonntag 04./05.11. von 15 – 19 Uhr
Dienstag und Mittwoch, 07./08.11. von 15 – 19 Uhr
Mittwoch, 08.11. ab 19 Uhr: Finissage und Künstlergespräch
Die Ausstellung "PERFODY – dancing for money, dancing for free" von Charlotte Arnhold, Fabio Cirillo und Stefan Mildenberger verhandelt Fragen zu sozialer Identität, Geschichtsschreibung und Massenmedien in Bezug auf Hetero-Normativität und die damit einhergehende Angst vor Andersartigkeiten und Fremdem. Dekonstruktion, Abstraktion und neue mögliche Formen erforschter und überlieferter Inhalte sind zentrales Element der Ausstellung und Verknüpfungspunkte der künstlerischen Praxen der KünstlerInnen. Die Auflösung der Trennung von Natürlichkeit und Künstlichkeit, den sozialen Beschränkungen durch Geschlechterrollen und Identitätspolitiken, diente als Inspiration der ausgestellten Videos, Installationen, Bildern und Performances.
Charlotte Arnhold works with performance, sculpture, video and music. A central element of her practice is identity and the illustration of new possible forms of identity; reality, imagination, the deconstruction and the joyful confusion of these. Her work is about exploring the spaces in between rather than the things at first glance visible. The things we allow or expect certain materials or objects to do, or what attributes we think they should have, stand as euphemisms for what we allow ourselves to be within the restrictions of naturalness and artificiality and the social restrictions through gender roles and identity politics. The use of tradition, whether in performances using male or female stereotypes or, within sculpture, working with ceramics and historical china painting, is a way to overdo these conventions, break them and open up room for something new. Drawn to surreal, dream like aesthetics and the creation of alternate realities with objects like games, tea sets or tables that resemble fragments or relicts of utopias or dystopias, her work tries to blur the line between dreams, fantasies and real experiences.
Fabio Cirillo's artistic praxis is linked with a historical archeologcal research, dealing with pla- ces, things, and issues from the past or present, when written records and oral traditions can inform and contextualize cultural material. In the speci c he want to question the authority of western cultural hegemony linked with heteronormativity and xenophobia. Embrasing the transfeminism movement which does not only include biologically born womens, he aim to contrast genderbinary and raccism. rough eater and performance art, he builds costu- mes and objects, inspired by the informations which he ndes during the research process. Mostly using porcelain-casting technique to shape human bodies and in order to reenacht a parody which sees the perfomer becoming a sort of human sculptures. Here the costume is understood booth to renegotiate the limit of the humand body, with it's linked surroundin, and as a form of ritualistic protest. He intend to rematerialize intimacy in order to concive forms of thinking based on community and collectivness expirience.
In his artistic work Stefan Mildenberger deals with the reformulation and abstraction of information from mass media content and its political, cultural and social impacts. By using technical-conceptual processes and the help of coincidence he deconstructs the actual convention and creates an abstraction. The Video-Installation LIQUID PORN by Stefan Mildenberger deals with the idea of a post-pornographic age and was inspired by Post Porn Politics – The Symposium Reader, published by Tim Stüttgen in 2009. "The concept post-porn was invented by erotic photographer Wink van Kempen and made popular by sexwork activist and performance artist Annie M. Sprinkle. It claimed a new status of sexual representation: Through identifying with critical joy and agency while deconstructing its hetero/normative and naturalising conditions, Sprinkle made us think of sex as a category open for use and appropriation of queer_feminist counter-pleasures beyond the victimising framework of censorship and taboo" (Tim Stüttgen). For the Video-Installation LIQUID PORN Mildenberger created fictitious figures that are living in a post-pornographic era and tell their stories, thoughts and opinions of everyday life and sexual practices.